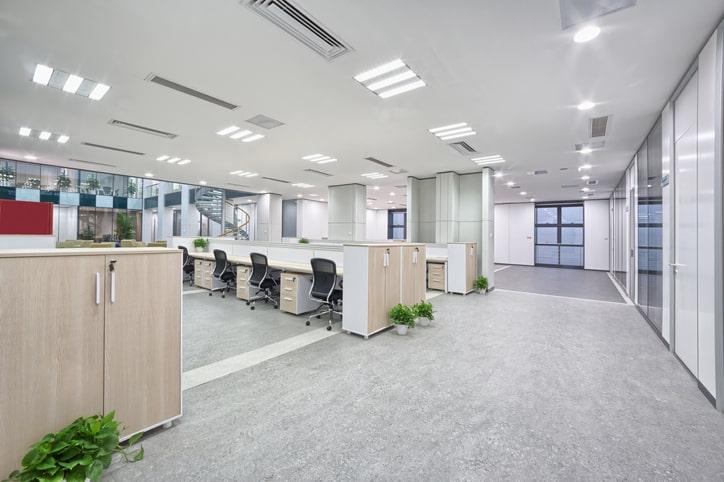 Phoenix Commercial Flooring
Installing new flooring for a commercial building requires the knowledge and skill you can only get from an experienced flooring contractor. At Home Solutionz we have years of experience installing flooring for businesses including restaurants, hospitals, daycare facilities, warehouses, retail shops, and much more. 
We have access to a wide variety of commercial floor types from heavy duty VCT to commercial grade linoleum that stands up to even the highest foot traffic situations. We specialize in the installation of commercial flooring that is slip resistant, gouge resistant, and even suitable for heavy loads.
Commercial Carpet Flooring
Commercial carpet or carpet tiles can be an attractive and practical option for many businesses. With many different styles and patterns available from a variety of manufacturers, our flooring experts can help you find the carpet that works best in your environment. Because carpet is naturally sound absorbent and slip resistant, it makes an excellent choice for busy businesses like retail shops, hotels, galleries, and more.
Commercial Vinyl, Tile, Stone, and Linoleum
One of the most popular commercial grade flooring types is Vinyl Composition Tile (VCT). Its durability, low maintenance costs, resistance to stains, and price make it an attractive choice for businesses like health care facilities and restaurants where heavy traffic and potential for stains are a concern. 
If vinyl doesn't fit the decor at your business, we also offer commercial grade tile, linoleum, and stone flooring to provide a perfect mix of durability and style. While all variations can stand up to even the heaviest traffic, tile is the most affordable solution, while stone provides the most style options. Our flooring installers specialize in all varieties of commercial flooring and will work with you to find the right fit for your business.
Eco-friendly Commercial Flooring
Many people and companies are choosing floors made from sustainable products. At Home Solutionz, we offer a variety of good options when it comes to sustainable flooring, including cork, bamboo, and sustainable linoleum. Bamboo can look beautiful and comes in many styles. Cork is great for noise reduction. Natural linoleum comes in many colors and is quite durable.
If you would like to speak to someone about Phoenix commercial flooring installation, please call (Sorry, we are unavailable) and schedule a free onsite estimate.